CARMEL VALLEY TASTING ROOM
5 West Carmel Valley Road
Carmel Valley, CA 93924
Tel: 831-298-8021
Toll Free: 800-223-2533

Tasting Room Hours
Sunday- closed
Monday- closed
Tuesday- 11:00am to 4:00pm
Wednesday- 11:00am to 4:00pm
Thursday- 11:00am to 4:00pm
Friday- 11:00am to 5:00pm
Holiday Closures
Thursday December 8th
Saturday December 10th
Saturday December 17th
December 25th
Saturday- 11:00am to 5:00pm
Reservations recommended but not required.
Tasting reservations are available at 11:00, 1:00 and 3:00pm for up to 12. Reservations are required for parties above 6.
Walk ins accepted based on availability.
We offer a flight of 4 two ounce pours of our single vineyard and reserve wines for $30 per flight. Wine Club tastings are complimentary.
We also have cheese and charcuterie for $20.. Please pre-order for groups larger than 6.
Looking for more than a wine tasting? Tour our vineyards, educate yourself about wine and the winemaking process, try exclusive wines, and enjoy paired appetizers when you elevate your Bernardus experience with one of our Wine Experiences packages.
Reservations are required for our Wine Experience packages. Please request a reservation at least one week in advance of your visit by calling 831-298-8021 or emailing tastingroom@bernardus.com.
Virtual Tasting
Reserve a personal virtual tasting with one of our educated staff for a one on one experience. Complimentary for our Wine Club Members and with any 3 bottle purchase.
*Reservations required
*Tastings can be held on Microsoft Teams or Zoom
*Tastings last up to 45 minutes
Please email tastingroom@bernardus.com or call 831-298-8021.
December 2022
Annual Member's Holiday Party
3:00 PM to 6:00 PM
Sat, Dec 10, 2022
Venue:
Bernardus Tasting Room 5 West Carmel Valley Road
Contact:
Heather Rammel 831-298-8020,
hrammel@bernardus.com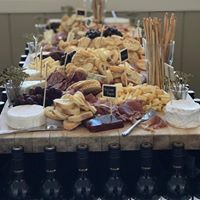 Wine club holiday party is complimentary for two passes per club membership. Space is extremely limited and reservations are based on first come first serve basis.
We will be pouring our single vineyard Pinot Noirs, Chardonnay, Rose, Sauvignon Blanc and Marinus. Passed appetizers catered by Jerome Viel.
We will have two dates: December 10th 3:00pm to 6:00pm and December 17th 3:00 to 6:00pm