Pinot Noir-2020 Monterey County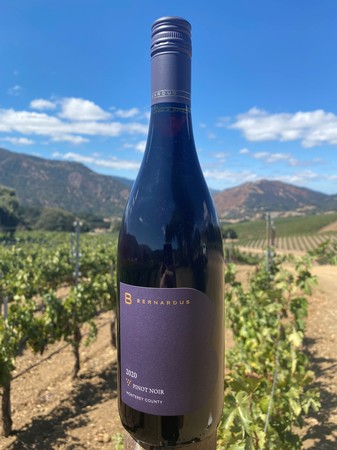 Please join us in welcoming back our delicious Monterey Pinot Noir program! We are sourcing our Monterey Pinot Noir grapes from two stellar Arroyo Seco vineyards: Griva and Mission Ranch. I'm certain everyone will be very happy with the results!
We care for our Monterey Pinot Noir a bit differently than our other Pinots in order to produce a wine that accentuates its fresh, fruity qualities. We divide these grapes into several fermentation tanks and ferment at cooler temperatures which helps protect their inherent fruity flavors. We then age the wines in older, neutral French oak tanks and barrels so the resulting wine truly expresses the style of these specially selected Arroyo Seco vineyards.
Our 2020 Monterey Pinot Noir shows a bright, ruby red color with excellent clarity. On the nose we find intense, spicy aromas of red cherries and cranberries, accented with floral notes. The palate exhibits vibrant, refreshing flavors of bright red berries and tropical fruits and a full, lush texture. We feel this wine is an excellent match with a wide variety of dishes.
At Bernardus, all our Pinot Noir grapes are hand picked block by block according to ripeness levels, hand sorted and fermented in small batches using specially selected yeasts. Each fermenter is pumped over or punched down twice daily in order to maximize the extraction of flavor and structure.
Harvest dates:
October 13th, 14th, 2020.
Cooperage:
Mix of older French barrels and our 30-year-old French oak tanks.
Bottled:
June, 2021.
603 cases of 750 ml bottles.