Chardonnay-2017 Ingrid's Vineyard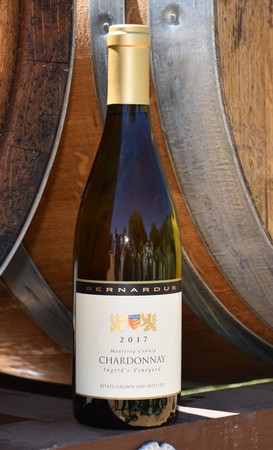 Ingrid's Vineyard is planted directly in front of Bernardus Lodge in the beautiful Carmel Valley. The vineyard is split into two equal parts. 3 ½ acres are planted to Chardonnay with Dijon clones 76 and 95, while the other 3 ½ acres are planted to a variety of Pinot Noir clones. This site has proven to be superb for these cool climate varietals with its sunny, cool location and its deep, well-drained soils.
At Bernardus, we ferment and age our Chardonnays in the Burgundian tradition. Our Ingrid's Vineyard grapes are hand-picked and sorted before being very gently whole-cluster pressed to insure the finest quality. We then transfer the juice to small French barrels for fermentation. Each barrel is hand stirred every two weeks to enhance richness and complexity. Our Ingrid's Chardonnay goes through a complete malo-lactic fermentation before final blending and bottling.
The aromas of our 2017 Ingrid's Chard exhibit green apple and baking spices. The palate is exceptionally rich and long with very focused flavors mirroring the aromas, supported by a crisp finish.
Picking date: October 13th, 2017.
Cooperage: 40% new; Sirugue, Billon and Dargaud & Jaegle.
Bottling: September 4th, 2018.
218 cases. (750 mls.)