Chardonnay-2018 Monterey County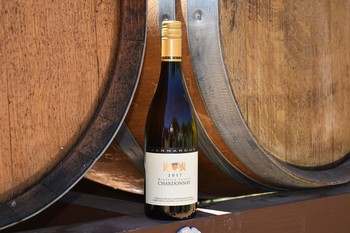 Our Monterey County Chardonnay is assembled from specially selected vineyards, primarily in the Arroyo Seco and Santa Lucia Highlands appellations. Each selected vineyard contributes unique aromas and flavors creating a Chardonnay of extraordinary character and finesse.
At Bernardus we follow traditional Burgundian methods to create a Chardonnay of the highest quality. At harvest, all our grapes are hand picked after careful evaluation for ripeness. The grapes are then very gently pressed in order to obtain the highest quality juice. This is then transferred to small oak barrels for fermentation. All barrels undergo a malo-lactic fermentation and are hand-stirred every two weeks until shortly before blending and bottling.
Our 2018 Monterey Chardonnay is an outstanding example of Chardonnay from Monterey County. The aromas exhibit scents of peach and lychee accented by caramel and toasty oak notes. The palate is very rich and highly focused with vibrant tropical fruit and citrus flavors supported by a crisp acidity.
Vineyard Appellations:
Arroyo Seco: 81.0%
Santa Lucia Highlands: 16.0%
Sonoma County: 3.0%
Coopers: Sirugue, Dargaud & Jaegle, Billon and Trust. 33% new barrels.
Bottled: July 31st – September 10th, 2018
23,919 cases – 750's
496 cases – 375's
397 cases - Magnums