Pinot Noir-2018 Sierra Mar Vineyard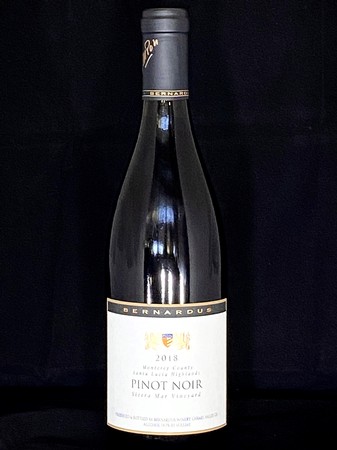 2018 Sierra Mar Pinot Noir
Sierra Mar is a superb vineyard planted by the renowned grower Gary Franscioni on a dramatic hilltop location at the southern end of the Santa Lucia Highlands. We at Bernardus are honored to be among the few to receive both Pinot Noir and Chardonnay from this SLH super star.
We have chosen two from among the several clones of Pinot Noir planted here: the celebrated Pisoni clone and Dijon clone 828. At Bernardus, we use only hand-picked and hand-sorted grapes for our wines.
Our 2018 Sierra Mar Pinot exudes beautiful aromas of ripe plum and hints of cola. The palate is full and intense, showing bright flavors of ripe red fruits and subtle oak notes, which linger on its long finish.
Fermentation: All our Pinots are hand-picked, hand-sorted and destemmed. We then gently pump the grapes into small fermenters retaining a maximum of whole berries. Each vat is inoculated with a specially selected yeast and hand punched or pumped over twice daily throughout fermentation. After a gentle pressing, the wine is pumped to barrels and aged for 10 months before the final blend is made for bottling.
Picking date: September 13th and 18th, 2018
Appellation: Sierra Mar Vineyard, Santa Lucia Highlands. 100% Pinot Noir.
Cooperage: 100% French: Sirugue and Billon, about 40% new.
Bottling:
August 21st, 2019.
706 - 6/packs (750 mls.)