Pinot Noir-2019 Soberanes Vineyard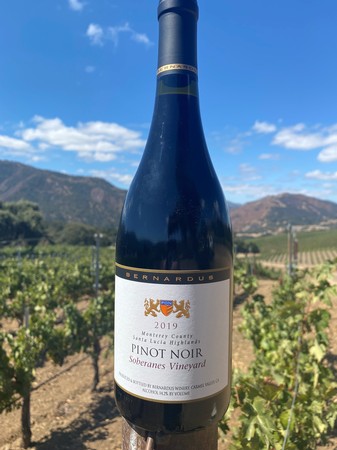 Santa Lucia Highlands' two most renowned growers, Gary Pisoni and Gary Franscioni, have joined forces on an exciting vineyard located just south of the celebrated Garys' Vineyard in the heart of the Santa Lucia Highlands. It is called Soberanes Vineyard. We at Bernardus are honored to be among the few wineries to receive both Chardonnay and Pinot Noir from this exciting vineyard.
We have chosen two Pinot clones: the celebrated Pisoni clone and Dijon clone 667.
All our grapes are hand-picked and sorted at the winery. Our Pinots are destemmed and gently pumped to small fermenters retaining as many whole berries as possible. Each vat is hand punched or pumped over twice daily until fermentation is complete. They are then gently pressed and the wine aged in barrel for 10 months before bottling.
Our 2019 Soberanes Pinot shows spicy aromas ripe red berries and cranberry. Typical of this special vineyard, the palate is full and intense, with flavors which mirror the aromas. The silky finish is very long and well-structured indicating a long maturation curve ahead.
Picking date: September 19th, 2019.
Appellation: Soberanes Vineyard, Santa Lucia Highlands; 100% Pinot Noir.
Cooperage: 100% French: Sirugue and Billon; about 40% new.
Bottling:
September 15th, 2020.
600 - 6/packs (750 mls.)