Sauvignon Blanc-2018 Griva Vineyard 1.5L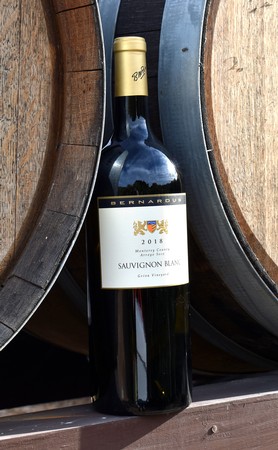 2018 Griva Sauvignon Blanc
Beginning in 2014 Bernardus has chosen to bottle only Sauvignon Blanc grapes from the Griva vineyard. Michael Griva has planted a special block of the celebrated "Musqué" clone of SB uniquely for Bernardus. It is widely recognized as the most expressive clone of Sauvignon Blanc. With its perfect combination of sandy, well-drained soils and a warm, breezy climate, Michael's vineyard has proven to be the ideal place to grow Sauvignon Blanc. We also incorporate a dash of Griva Semillon which provides an extra note of richness and complexity.
All our grapes are hand-picked during many successive pickings at various ripeness levels in order to have a broad palette of flavors and acidity levels from which to create our final blend.
Tasting notes: Our 2018 Griva Sauvignon Blanc exhibits classic aromas of gooseberry along with beautiful floral notes. The palate is rich in texture with ripe citrus and tropical fruit flavors, accented by mineral nuances.
Fermentation: We ferment our Monterey Sauvignon Blanc at low temperature in stainless steel tanks. It is then aged for several months in large, neutral 30-year-old French oak tanks to encourage integration of flavors. We use 3 specially selected yeasts, each one adding its particular nuance and style which enhances the complexity of the final blend.
Harvested:
Griva Sauvignon Blanc: September 11th through October 9th, 2018.
Griva Semillon: November 6th, 2018.
Bottling date: March 7th through 15th, 2019.
Bottled:
8,976 cases (750 mls.)
Magnums: 198 6-packs