Sauvignon Blanc-2019 Signature Griva Vineyard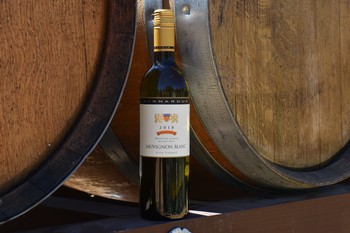 2019 Signature Griva Sauvignon Blanc
All our Sauvignon Blanc grapes come from a block, specially planted for Bernardus, in the Griva Vineyard with the celebrated "Musqué" clone. We often add a dash of Semillon, also grown for us by Michael Griva, which contributes a note of richness and complexity to this superb wine.
All our grapes are hand-picked during many successive pickings at various ripeness levels in order to have a broad palette of flavors and acidity levels from which to create our final blend.
Tasting notes: Our 2019 Signature Griva bottling has aromas of grapefruit accented by mineral nuances. The beautifully rich palate exhibits bright tropical fruit flavors with notes of lime and grapefruit zest. The 2019 version is beautifully rich, yet perfectly balanced with a gently crisp, refreshing acidity.
Fermentation: We ferment our Signature Griva Sauvignon Blanc at cool temperature in stainless steel tanks. It is then aged for several months in large, neutral 30-year-old French oak tanks to encourage integration of flavors. We use 3 specially selected yeasts, each one adding a unique flavor profile which enhances the complexity of the final blend.
Harvested:
Griva Sauvignon Blanc: September 18th through October 5th, 2019.
Griva Semillon: October 22nd, 2019
Bottling date: May 13th through 27th, 2020.
Bottled:
8,632 cases (750 mls.)
+ 30 3-liter bottles
+ 30 6-liters bottles