Pinot Noir-2019 Ingrid's Vineyard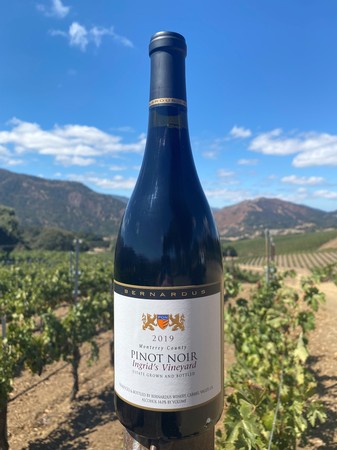 Our tiny (3 ½ acres) Ingrid's Vineyard Pinot Noir, planted at the entrance to Bernardus Lodge in Carmel Valley, is typical of the newest trend in terms of climate and location of the highest quality Pinot Noir vineyards in California. Only ten miles from the ocean, our vineyard enjoys sunny weather with cool ocean breezes throughout the summer and fall seasons. This produces a Pinot of great intensity and well-defined fruit expression.
We planted our Ingrid's Pinot Noir vineyard in 1999 with three of our favorite clones: 667, 777 and Pommard. These are providing us with ever deeper, richer wines as the vineyard reaches full maturity.
Our 2019 Ingrid's Vineyard Pinot Noir exudes spicy, dark red fruit aromas. The wine is very intense and perfectly focused. Flavors are redolent with essences of black cherry, red berries and subtle toasty oak notes. This vintage of Ingrid's Pinot Noir is beautifully structured allowing for several years of ageing or it can be enjoyed in its youth for its bright fruit flavors.
Picking date:
September 21st and 25th, 2019.
Varietal:
100% Pinot Noir.
Cooperage:
100% French, 45% new; Sirugue and Billon.
Bottled:
September 11th, 2020.
248 cases (6/packs - 750 mls.)
189 cases (6/packs - 750 mls.)