Pinot Noir-2021 SLH 375ml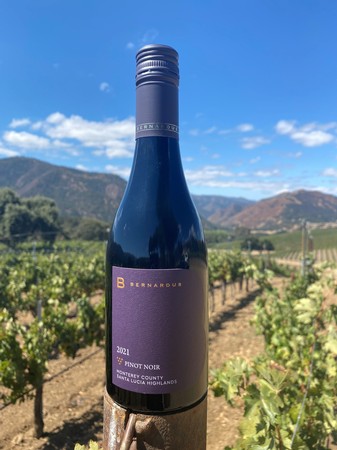 Our Santa Lucia Highlands Pinot Noir is a blend of Pinot grapes selected from some of the finest vineyards in the Santa Lucia Highlands. This small strip of benchland has been recognized as one of the finest Pinot Noir regions of the world. It has been a focus for us at Bernardus for many years, as we recognized early on the phenomenal potential of this great region.
At Bernardus, all our Pinot Noir grapes are hand-picked, sorted and fermented in small, individual batches. They are then aged in the finest French oak barrels and tanks until final blending just before bottling.
We bottle our Santa Lucia Highlands Pinot Noir earlier than our other Pinot bottlings in order to put the focus on its fresh fruit expression. This is an outstanding example of the characteristics that have made the Highlands one of the world's most prized Pinot growing regions.
Our 2021 Santa Lucia Highlands Pinot Noir exhibits all the characteristics that have demonstrated the superb quality of this special viticultural region. The aromas display bright ripe cherry, plum, strawberry aroma, along with subtle hints of French oak notes. The palate is very rich and expressive of intense red fruit flavors and spice notes supported by a long, silky finish. This is a wonderful example of the widely recognized quality of this unique growing region!
Varietal: 100% Pinot Noir
Cooperage: Aged for 5 months in 100% aged French oak barrels and 32-year-old French oak tanks.
Bottled: April 22nd – 25th, 2022
Production:
7,511 12/pack cases. (750 mls.)
500 6/packs (750 mls.)
498 12/packs (375 mls.)
198 3.0- liter bottles
132 5.0-liter bottles