Sauvignon Blanc-2012 Late Harvest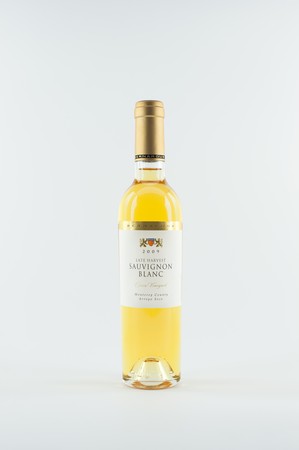 2012 Late Harvest Sauvignon Blanc
When the weather conditions permit, Michael Griva leaves a corner of his Sauvignon Blanc vineyard unpicked and allows the development of a special type of Botrytis known as "noble rot". Under the right conditions this unique fungus grows within the grape piercing tiny holes in the skins which permits the juice to concentrate in sugar and flavor. We monitor the vineyard closely throughout the month of November and into December until we judge the time is right to begin picking. Selection of the individual clusters is draconian at this stage as pickers make several successive sweeps through the vineyard over a period of several weeks.
As you pour the wine, you will notice its rich viscosity promising a rewarding tasting experience. The aromas are concentrated and complex with scents of orange blossom, honeysuckle and dried apricot. The flavors fill the mouth in a hedonistic explosion of ripe tropical fruits and candied orange peel which linger beautifully on the palate. Typical of all great dessert wines, our Late Harvest Sauvignon Blanc shows the perfect balance of sweetness and acidity.
It is easy to make an artificially sweet wine, but extremely difficult to make one produced by Nature in the classic tradition. And the difference is obvious once you taste it! We recommend this wine be served chilled.
Harvest:
December 10th & 31st, 2012.
Fermentation:
Each picking was gently pressed for about 8 hours. The juice was settled overnight, then siphoned into a combination of new French oak and stainless steel barrels and yeasts added. We ferment these in the coolest part of the winery for a slow, gentle fermentation which lasts several weeks. The fermentation comes to a halt naturally when the balance of alcohol and sugar is achieved.
Bottled:
March 10th, 2014.
Appellation:
Griva Vineyard, Arroyo Seco appellation.
Production:
107 cases (12 packs; 375 ml. bottles).